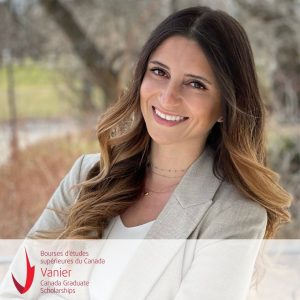 Maram Assi has received the Vanier Canadian Graduate Scholarship for her NSERC funded project "Developing an intelligent bug fix recommender system."
Here is what Maram has to say about this wonderful accomplishment.
What does it mean to you to have received this award?
I am extremely appreciative of the recognition I have received for my work from
the Government of Canada. Truthfully, receiving the Vanier Graduate Scholarship
is some peace of mind. Now, I can devote all my time to my research work.
How will this scholarship contribute to your work going forward?
Being recognized as a Vanier scholar has fueled my passion for research. It
energizes me to work better, further and harder! But it is also a great
responsibility.
As Silicon Valley's entrepreneur Marc Andreessen once said, "In short, software
is eating the world." As a software developer and software engineering
researcher, I can say that "Bugs are eating the software budget." Therefore, it is
a key focus to assist software developers in responsively fixing software bugs.
That's what my Ph.D. research is centred about.
If our approach could assist developers in solving only a fraction of those bugs, it
would bring value to the software engineering community and the larger society.
This is only the beginning! I believe that in the upcoming years, I am going to
have much fun, enthusiasm and admiration in the field of Software Engineering.
Anything else you'd like to add on winning this scholarship?
As an international female student awarded the Vanier, I feel now even more
empowered for promoting diversity, equity and inclusion through my academic
and leadership endeavours. All I want is to lead by example, thereby inspire
other women to follow in my steps and effect change in the world.
I promise I will remain as involved as I can be in my community!
Congratulations Maram and all the best with your future endeavors!