SSP
This innovative degree is aimed at students with interests and abilities in both Computing and the Fine Arts. You can participate in advanced courses in Art, Drama, Film, or Music, while maintaining a solid concentration in Computer Science and Mathematics. Fill out your degree with electives in other Arts areas and interdisciplinary courses of all kinds. Graduates can expect to work in the entertainment industry, in art galleries and museums, in multimedia design and production, and in developing the next generation of software for the Arts.
Program Outline
What follows is a list of the required unit credits for the Computing and the Creative Arts program. This information is meant as a guide and is subject to change. The precise and up-to-date requirements for Computing degree plans can be found online in the Arts and Science Calendar. In case of discrepancies, the calendar should be considered as the official definition.
Typical 4-years honours programs consist of 120 unit credits. A one-term course is worth 3 units, while a full year (two-term) course is worth 6 units. All courses listed below are 3 units unless specified with a /6.0 after the course code.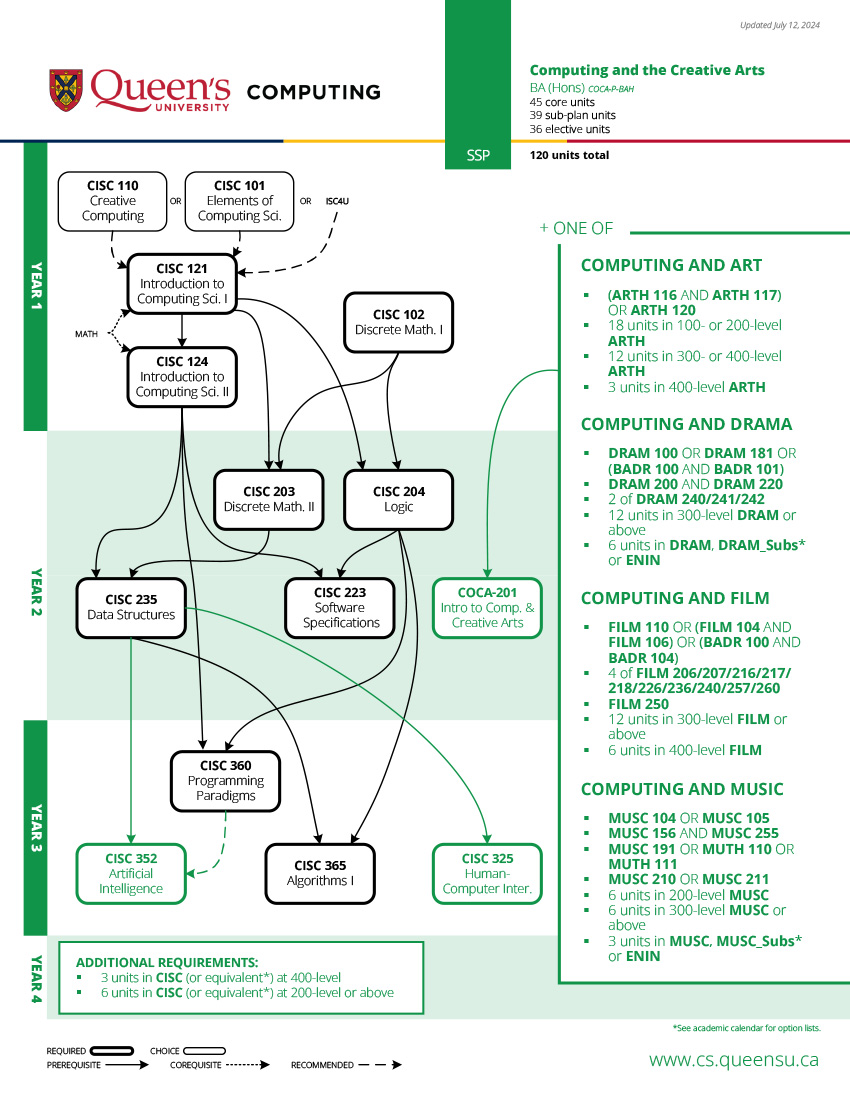 Prerequisite Chart
CISC 121

Introduction to Computing Science I

CISC 124

Introduction to Computing Science II

One of the following 2 courses:

COCA 201

Introduction to Computing and the Creative Arts

CISC 203

Discrete Mathematics for Computing Science II

CISC 204

Logic for Computing Science

CISC 223

Software Specifications

CISC 235

Information Structures

CISC 325

Human-Computer Interaction

CISC 352

Artificial Intelligence

CISC 360

Programming Paradigms

CISC 365

Algorithms I

9.0 units from:

Any CISC

COMM 365

Advanced Business Decision Modeling

ELEC 470

Computer System Architecture

ELEC 471

Computer Networks I

ELEC 476

System Simulation

ELEC 478

Computer Networks II

MATH 272

Applications of Numerical Methods

MATH 337

Introduction to Operations Research Models

MATH 401

Graph Theory

MATH 402

Enumerative Combinatorics

MATH 434

Optimization Theory and Applications

MATH 474

Information Theory

with at least 3.0 units at 400-level.

One of 4 sub-plans:
Plan i - Computing and Art

One of the following options:

ARTH 120/6.0

Art in the West from Antiquity to Modernity

BOTH of the following courses:

ARTH 116

Art and Architecture in Britain from the Classical Period to c.1700

ARTH 117

Art and Architecture in Britain from c.1700 to the Present

3.0 units in ARTH at the 400-level
12.0 units in ARTH at 300-level or above
18.0 units in ARTH at the 100- or 200-level

Plan ii - Computing and Drama

6.0 units from:

DRAM 100/6.0

Introduction to the Theatre

DRAM 181/6.0

Introduction to Current Theatre

BISC 100

Thinking Locally

BISC 101

Acting Globally

DRAM 200/6.0

Theatre History and Literature I

DRAM 220

Introduction to Dramaturgy

Two of the following courses:

DRAM 240

Introduction to Theatre Space

DRAM 241

Design and Theatre

DRAM 242

Introduction to Theatre Production

12.0 units in DRAM at 300-level or above
6.0 units in DRAM and/or the following courses

Any ENIN or MUTH

CLST 312

Greek and Roman Drama

DEVS 321

Development Dramas

DRAM 335

Acting for the Screen

ENGL 256/6.0

Shakespeare

ENGL 257

Elizabethan Shakespeare

ENGL 258

Jacobean Shakespeare

ENGL 259

Global Shakespeare

ENGL 326/6.0

Shakespeare and Renaissance Drama

ENGL 335/6.0

English Drama to 1700

FILM 381

Audience Reception

FREN 305

Le théâtre depuis 1945

GRMN 561

Goethe I

IDIS 210

Arts in Society

IDIS 311

Sound Production

IDIS 410/6.0

Contemporary Cultural Performance in Practice

ITLN 357

Pirandello's Theatre

LLCU 200/6.0

Semiotics: Interpreting the World

LLCU 257

Pirandello's Theatre

LLCU 301

Oral Tradition and Innovation in Cultural Transmission

LLCU 332

Spanish Baroque Short Theatre

LLCU 339

XX-Century Italian Playwrights: In Search of the Theatre

MAPP 300

Media and Performance II
Plan iii - Computing and Film
Plan iv - Computing and Music
MUSC 104

Introduction to Music Fundamentals

MUSC 156

Introduction to Digital Audio Recording, Editing, and Mixing

MUSC 191/6.0

Theory and Analysis I

One of the following courses:
One of the following courses:

MUSC 210

Western Art Music: Crusades to Colonialism

MUSC 211

Western Art Music: Industrialization to the Internet

MUSC 255/6.0

Electroacoustic Music Composition

15 units in MUSC with at least 6 at 300-level or above and 6 at 200-level or above
Admission Requirements
Admission to a degree program in the Faculty of Arts and Science from an Ontario Secondary School is based on the completion of the Ontario Secondary School Diploma (OSSD). Please see Admissions for details.
How to Apply
Apply at the Ontario Universities Application Centre using the program code QA (Queen's University, Arts).
More Info
More information may be obtained by sending mail to undergrad@cs.queensu.ca or by contacting the Computing and the Creative Arts advisor: