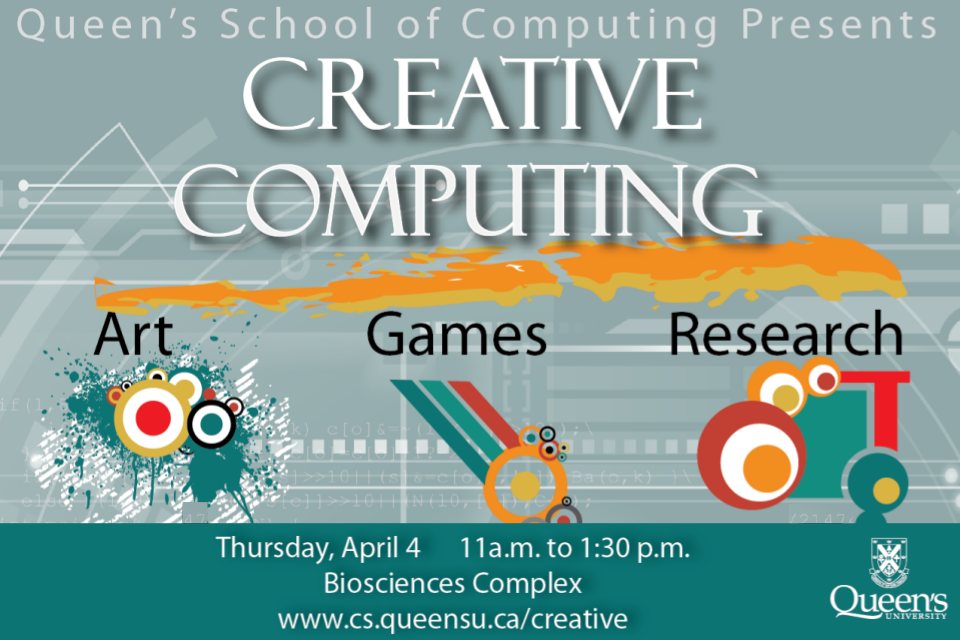 Update: Creative Computing Event Featured on CKWS TV and in The Whig
Please join us on Thursday April 4th from 11:00-1:30 for the Queen's School of Computing's day of Creative Computing: Art, Games, Research. The day will highlight the work of the School's undergraduate and graduate students with hands-on demos, presentations, and posters from a selection of our courses, with topics including Game Design and Game Technology, Computing and the Creative Arts, 4th year projects, Human Computer Interaction, and more.
The event will take place in the Biosciences Complex and will be a terrific opportunity for everyone to see first-hand what our creative students create throughout the school term.
Computing and the Creative Arts: COCA201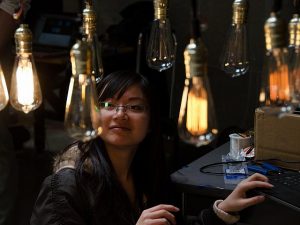 Computing and the Creative Arts (COCA) 201 is the introductory course for the Computing and the Creative Arts undergraduate program at the Queen's University School of Computing. COCA201 is a studio-oriented, half-credit course that encourages collaboration between students from diverse backgrounds in order to create interactive art pieces using state- of-the-art technologies. COCA201 provides an overview of the impact of computing in various arts-related fields, such as new-media art, electronic music, art preservation and analysis, computer animation, theatre and dance, industrial and architectural design, and computer games. Students enrolled in COCA201 acquire the technical expertise to design and develop new and relevant applications that take full advantage of the latest trends in digital technology.
Game Design and Game Technology: CISC 226/CISC877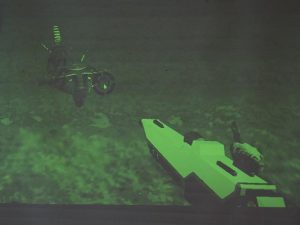 Students of CISC 226, Game Design will show off their course projects. Their challenge? To come up with a game idea that has never been done before, and make it reality. The students will have hands-on demos of 17 games.
Students of 877 will show off their projects on novel game technology. The games show off novel networking algorithms, artificial intelligence, procedural content generation, and even a tool for designing your own controller on-the-fly. Four hands-on demos will show the results of their work.
Human-Computer Interaction: CISC 325
Our introductory course on Human Computer Interaction provides students an opportunity to explore the techniques necessary to design, build and evaluate effective user interfaces.  This year, student groups will be developing tablet apps for Android. 
Fourth Year Projects: CISC 499
Our fourth year project course finds student groups working on a given topic selected under the supervision of a faculty member. Emphasis may be on the development of a large program, or on more theoretical issues.  Examples of projects include:
Ultrasound-Guided Facet Joint Injection Training Using the Perk Totor
Visualization of Deformation Fields in 3D Slicer
Kingston Walking Tour App
DIS Protocols Compatibility Pack for OrMiS
Data Recording and Analysis of Novice Student needle Paths During Needle
Biopsies with Ultrasound Guidance
Big Data Analytics in the Cloud
Patterns of Successful Online Professional Profiles
Investigation of Effects of Technology on Electromagnetic Sensitivity
A Talented World – Expertise Mapping of Online Professional Profiles
On Resolving the Premature Convergence Problem of PSO