Rebecca Hisey
PHD Research Achievement Award
---
The purpose of the Award is to recognize a PhD student who achieved significant
research results: quantity and quality of publications, patents, and commercial products.
In her PhD research, Rebecca is advancing the state of the art in computer-assisted medical training. Her research explores video-based assessment of surgical skill using inexpensive webcams, opening this domain for wide-scale use, especially in low-income countries.
The publication outcome from her work is substantial, and it appears in the top forums of her field, such as the IEEE Transactions of Biomedical Engineering. Recently, she traveled to Dakar, Senegal, where she installed and put into practice her surgical intervention devices.
Rebecca's supervisor, Prof. Gabor Fichtinger, wrote:
"As a top student, researcher, mentor, teacher, team builder and athlete, Rebecca has been a truly inspirational role model for our students in every aspect. Based on her brilliant achievements in all aspects of translational biomedical computing research, I consider Rebecca Hisey a singularly worthy recipient of the Queen's School of Computing PhD Research Achievement Award."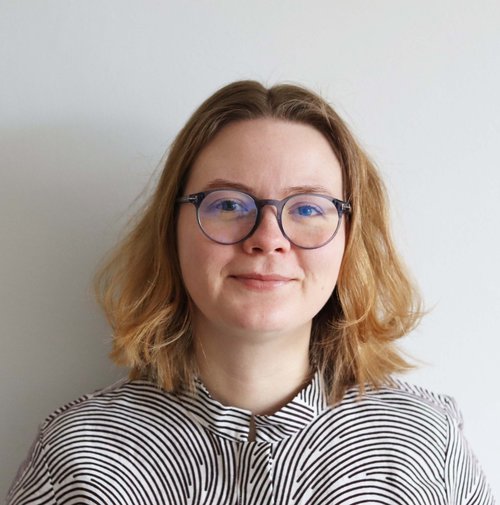 Dr. Lee Jones
Honorable Mention – School of Computing Research Award
The Awards Committee acknowledged Dr. Lee Jones as the runner-up for the award, stating that "the final decision was a very difficult one between these two deserving and praiseworthy nominees."
Dr. Jones is a postdoctoral fellow with the iStudio lab. In her research she develops DIY toolkits so individuals can design and create interactive soft technologies to suit their own needs.
Quote from the iStudio Director, Dr. Sara Nabil:
"Lee Jones is an outstanding researcher with highly regarded publications, exclusively in the top 10 venues of our field.
She has excelled at publishing in top Tier-A HCI academic venues and has 28 peer-reviewed papers published to date (acceptance rate 20~24%) with most of them while working at the School of Computing. This is including an ACM CHI2023 paper that she just presented at the most prestigious HCI conference last month in Germany. Her rigorous research is suburb and deserving this award is unquestionable."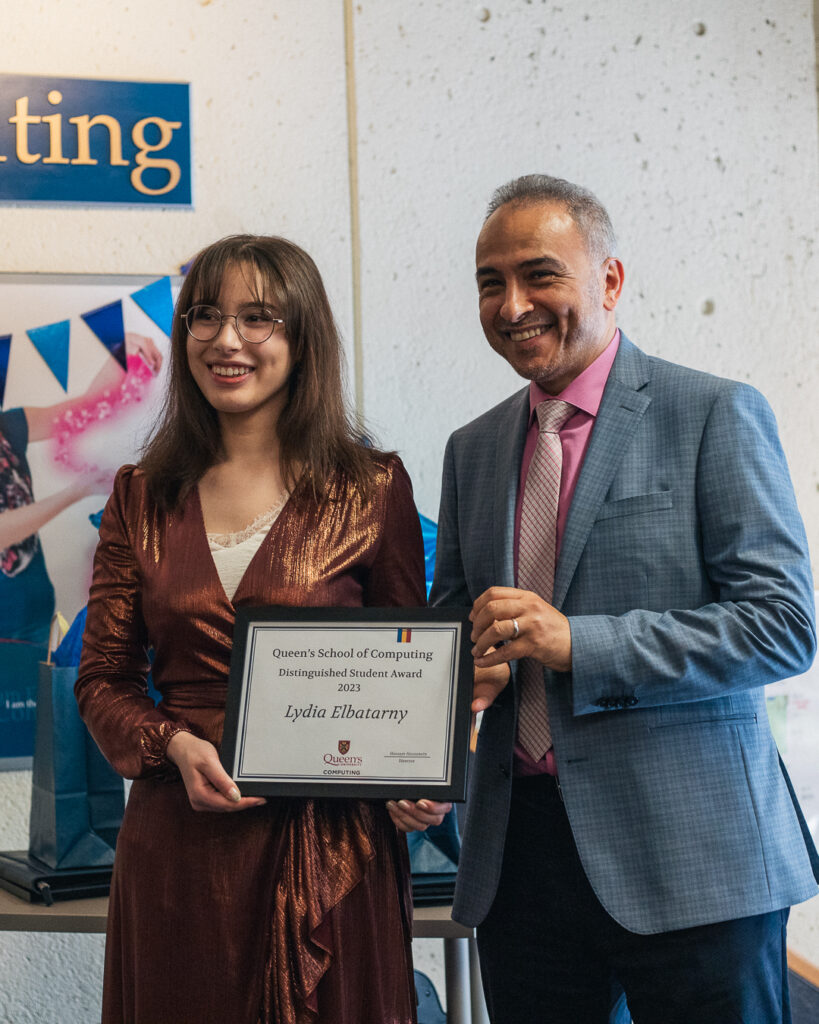 Lydia Elbatarny
Distinguished Student Award
---
The purpose of the Award is to recognize a student who contributed to the School of
Computing with recognized service while maintaining excellent academic performance and
research contributions.
During her time at Queen's, Lydia has made outstanding and exceptional contributions to student life in the School of Computing. Her personal skills and strengths are as impressive as her intellectual accomplishments. She has consistently been on the Dean's Honour List.
Lydia has volunteered in countless outreach events such as March Break Open House and Science Rendez Vous and serves as a Student Ambassador mentoring younger students at the University.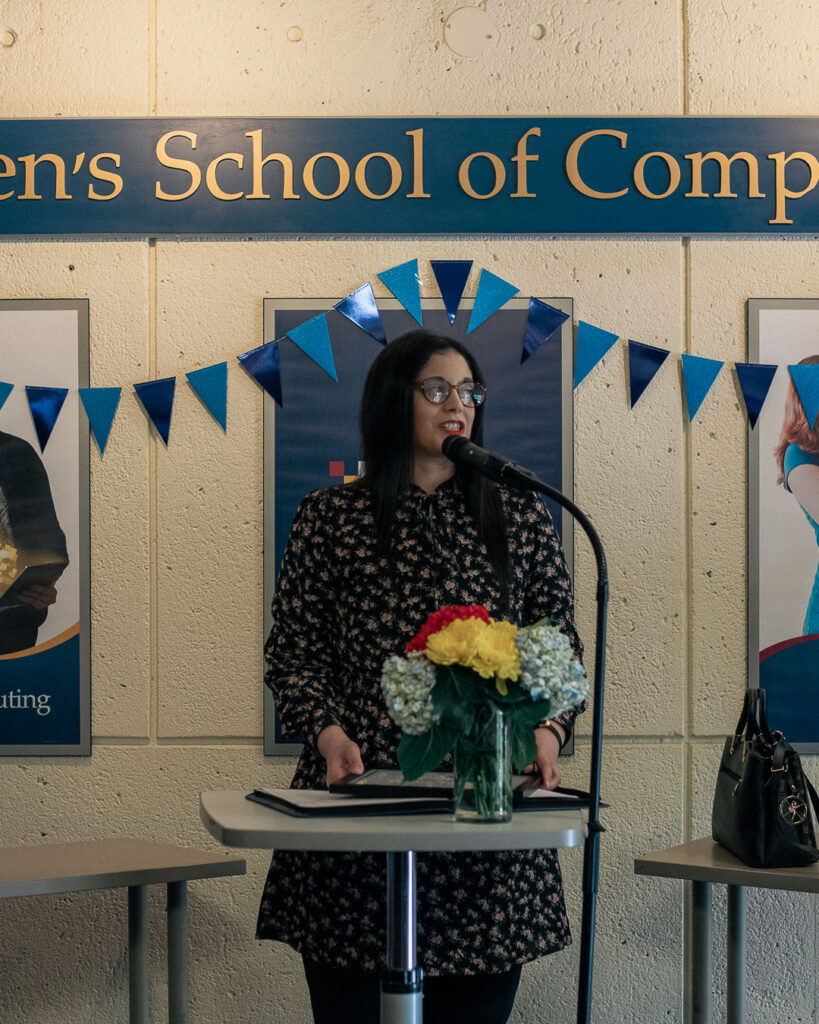 Dr. Sara El-Sayed
School of Computing Research Award
---
The purpose of the Award is to recognize outstanding research contributions made by a
School of Computing postdoctoral fellow or other researcher affiliated with the School. The
criteria used are quantity and quality of publications, patents, and commercial products. The
research contributions should be the result of work that the researcher performed while working
in the School of Computing.
Dr. Elsayed is a Postdoctoral Fellow in the Telecommunications Research Laboratory (TRL). In 2022, she led a group of students to make groundbreaking contributions to the democratization of Edge Computing/Edge Intelligence (EC/EI).
In addition to her own research achievements, Dr. Elsayed mentored several students who made significant contributions towards cutting-edge research in proactive and worker-oriented resource allocation. Her other mentees were able to conduct trailblazing research in QoS-based task replication, task offloading, and task migration in democratized EC systems.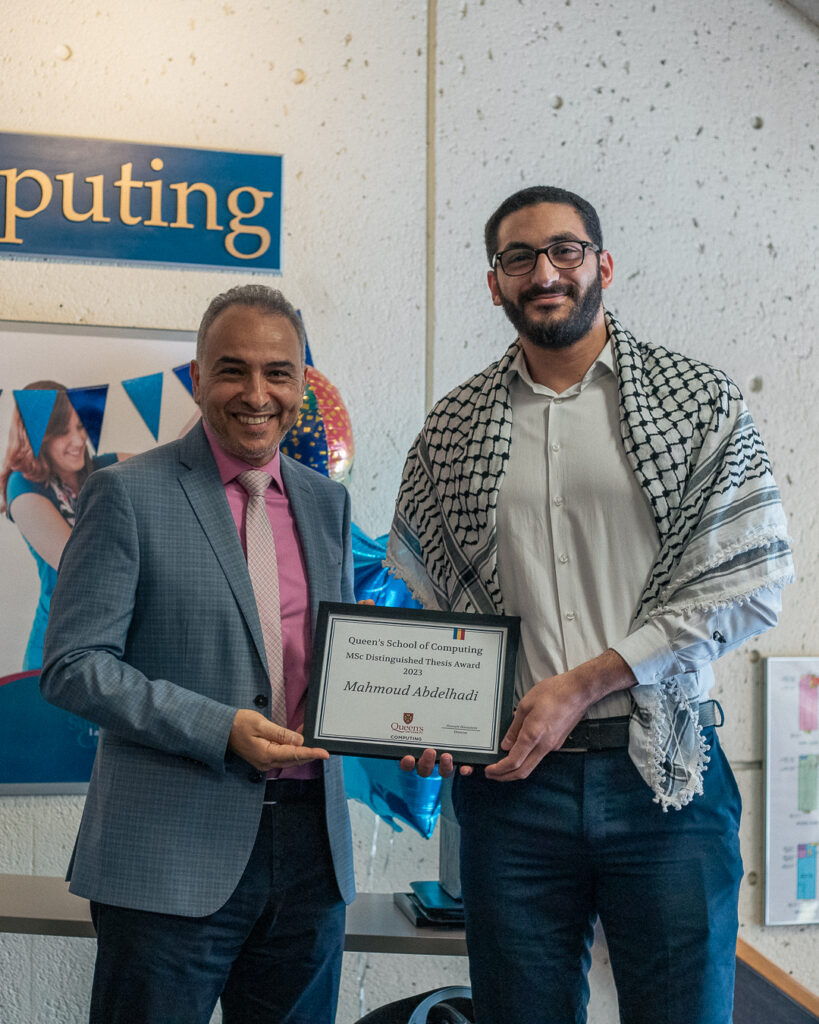 Mahmoud Abdelhadi
Distinguished MS Thesis Award
---
The School of Computing distinguishes a few MSc theses every year as exemplary. The
designation reflects the research quality and writeup. Each year one of these is selected as the
Distinguished MSc Thesis.
Mahmoud's thesis, titled "Spatiotemporal Analysis on Distributed Task Offloading in Extreme Edge Devices" was prepared under the mentorship and supervision of Professors Sameh Sorour, Hesham ElSawy and Hossam Hassanein.
Note from the examiners:
"The thesis is well written and provides an outstanding and original research results for extreme edge computing for IoT networks. In particular, the thesis provides solid and novel contributions for network characterization, performance assessment, and design. Mr. Abdelhadi develops novel and solid mathematical models based on stochastic geometry and queueing theory that account for the devices' spatial density, devices' random locations, temporal evolution of the computing process, and devices vulnerability to failures. Such mathematical models are important for standardization bodies, equipment vendors, and network operators to characterize, predict, and assess the extreme edge computing performance to take informed decisions about future technology development."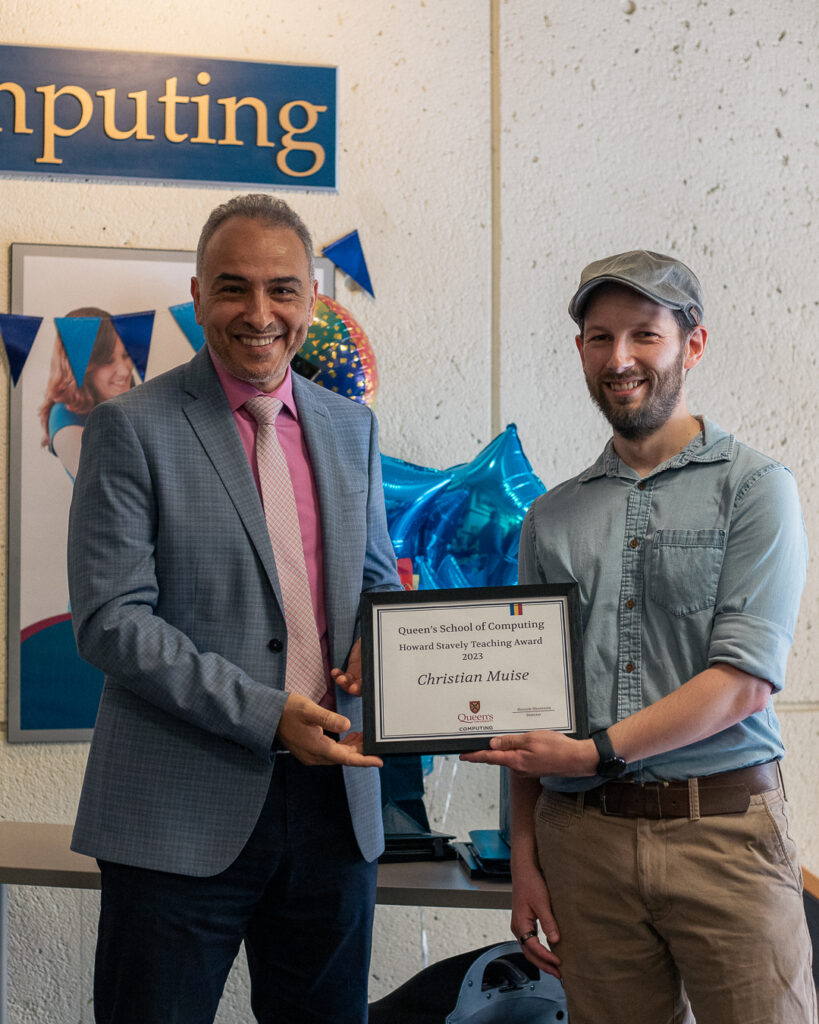 Dr. Christian Muise
Howard Stavely Teaching Award
---
Howard Staveley started working at Queen's University in 1966. He became an adjunct
instructor for the department of Computing and Information Science (our School of Computing)
in 1982 and continued teaching until the winter term of 1996. He also held the position of Manager
of Information Systems in Computing Services from 1982 until 1996. Howard passed away in
1996 at the age of 52, in the midst of a successful career. He has been sorely missed by his many
friends at Queen's. In 1997 an annual teaching award was created in his memory.
Dr. Muise has been an Assistant Professor at QSC for more than 3 years. He is the head of the MuLab research group, where his own research focuses on an area of Artificial Intelligence called Automated Planning; a field dedicated to synthesizing and executing strategies in an automated fashion in order to achieve a given goal.
Christian Muise was selected for this award by an anonymous poll of undergraduate computing students, organized by the Queen's University Computing Students Association (or COMPSA), which makes this award all the more special, and testifies to the fact that Christian Muise is a genuine favourite instructor among undergraduate students.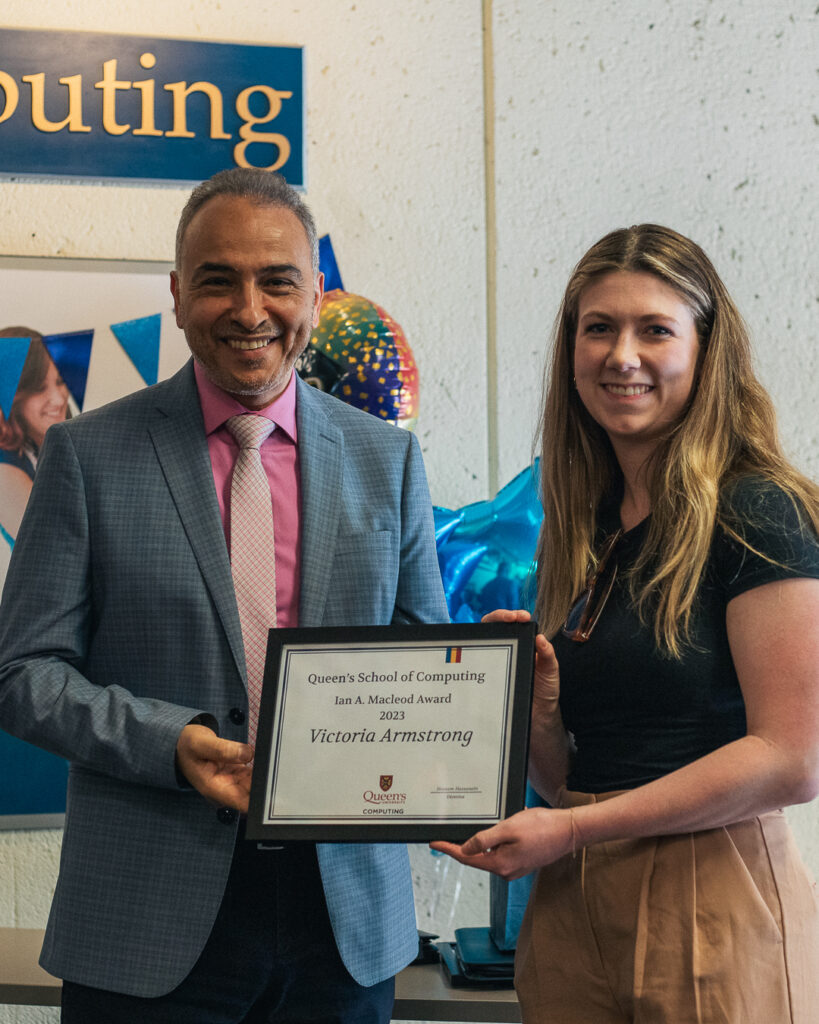 Victoria Armstrong
Ian A. Macleod Award
---
Established by friends, colleagues, and students in memory of Professor Ian A. Macleod,
who was a member of the Department of Computing and Information Science (our School of
Computing), from its inception in 1969 until 1995. To commemorate his belief in the importance
of a strong departmental spirit, the award is granted to the graduate student who made the greatest
contribution to the intellectual and social spirit of the School of Computing during the preceding
academic year.
Distinguished Service Award
---
The purpose of the Award is to recognize outstanding service to the School of Computing.
Victoria dedicated her research time to exploring human interaction with AI and currently works in both the iStudio and the Mu labs. As a second year PhD student, Victoria has already published two research papers and has an incredibly high GPA of 4.2.
Victoria is a long-standing member and current president of GCS, a mentor through A&S mentorship program, a long-standing member of orientation committee, and a highly ranked TA.
Her supervisor Dr. Christian Muise wrote about Victoria "Victoria Armstrong is incredibly deserving of the Ian McLeod award, as she has built an incredibly strong community here in the school of computing. When she graduates, the department will be at a great loss. This award perfectly embodies the spirit of what Victoria is all about – excellence in research through accessible collaboration."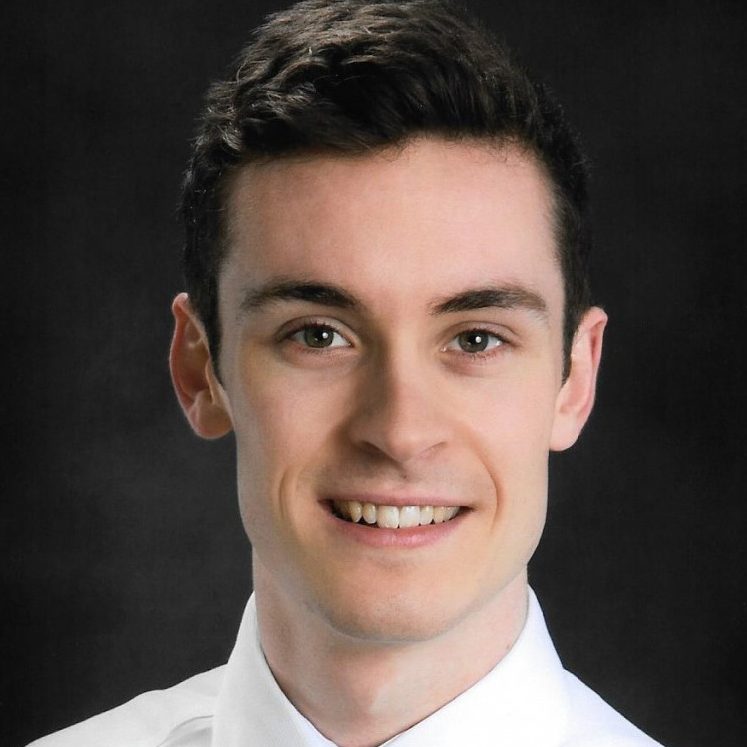 Colton Barr
Excellence in Teaching Award (TA)
---
The purpose of the award is to recognize excellence in teaching assistance (a.k.a. The
Best TA) in an undergraduate course at the School of Computing.
Colton is doing his PhD in Computer Science and has been selected as the best TA in a survey among students in his class, with an additional nomination from Dr. Gabor Fichtinger, the teaching instructor to the Computer-Integrated Surgery course.
Quote from Dr. Fichtinger' s nomination:
"Teaching this course is a great joy and responsibility that I am immensely pleased and relieved to share with Colton. His expertise, dedication, and above all his love for teaching and mentoring, render him the ultimate partner and comrade I can wish for in this this endeavour."