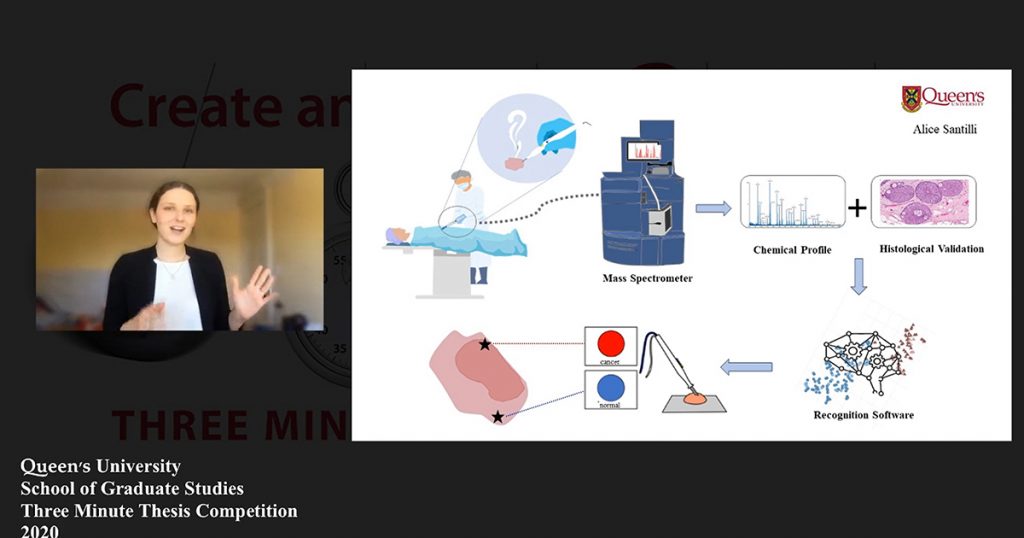 Original source Queen's Gazette No stopping the Three Minute Thesis
Alice Santilli, a master's candidate in the School of Computing, is the Queen's Three Minute Thesis winner with her presentation 'Sniffing out breast cancer.'
Every cancer patient who goes to the hospital for treatment hopes it will be their last.
Alice Santilli, a master's candidate in the Queen's School of Computing, wants to turn that hope into more of a reality for breast cancer patients.
"Around 40 percent of women who currently go through breast tumor removal in Canada will leave their surgery with breast cancer cells remaining in their bodies," says Santilli, likening the process to unsuccessfully weeding a garden.
So, how do you keep the 'weeds' out in this case? Her research aims to create an artificial intelligence-based model that will help surgeons tell the difference between skin cells, fat cells, and tumorous cells, which would minimize the likelihood of follow-up surgeries.
Her process involves using a device called a mass spectrometer to analyze the smoke being generated by a surgical tool known as an intelligent knife, or iKnife, during the surgery. The data being fed to the surgeon in real-time would ensure the correct cells are removed.
Santilli's exciting research and her strong presentation skills have earned her first place in the 2020 edition of the Queen's Three Minute Thesis (3MT) competition.
Continue reading about Queen's first virtual 3 Minute Thesis and the results at Queen's Gazette No stopping the Three Minute Thesis