On Monday, June 1st at 2:30 pm, our graduating class of 163 Bachelor, Master's, and PhD in Computing students would be walking the stage in Grant Hall for their convocation ceremony. This year, due to the pandemic, we are sending off our graduates and welcoming them as our alumni remotely. We look forward to offering them a traditional ceremony in the future. Until then, watch the video message below from members of our School offering their congratulations.
A message from the Director to the Queen's School of Computing graduating class of 2020.

Today is your day, a day to celebrate all that you have accomplished during your studies at Queen's University. You have worked so hard over the past few years. You gained educational and life experiences, got involved in campus activities, went on internships and worked multiple jobs and managed your time and finances. Today we are so proud of all of you.

Reflecting on your time in studies

Together, we have encountered many milestones:

Today we recognize you as graduates and welcome you to our community of alumni. It might not be via the ceremony that we all expected when you began your studies here, but it does not change the significance of this milestone.

Welcome to our alumni network

Stay connected as the class of 2020 with the School of Computing!

The class of 2020 will be remembered in history as the most adaptable and selfless graduating class. You took action and demonstrated leadership by sacrificing the final days of your studies to protect your health and the health of others. As you enter a new world, we look forward to seeing how you shape, lead, and change our future.

Looking towards your futures

The skills that you carry as computer scientists are essential in times like these. You have the ability to transform industries from all sectors. The demand for your knowledge is increasing as the world reconsiders how the future will look. We are excited about the opportunities that you will encounter and will continue to support you as you pursue future endeavors.

Congratulations to the Class of 2020! Move ahead and make your mark in the world. You have already made history. Best wishes in your Computing career!!
Computing Graduates – Monday, June 1st at 2:30 pm
Doctor of Philosophy
Rahma Said Hamed Al Mahruqi, Computing, Supervisors: T.R. Dean, M. Alalfi
Nafiseh Kahani, Computing, Supervisor: J.R. Cordy
Ashiqur Rahman, Computing, Supervisor: J.R. Cordy
Alireza Sedghi, Computing, Supervisor: P. Mousavi
Master of Science
Ghazal Fouladfard, Computing, Supervisor: J.R. Cordy
Torrey William Grout Frith, Computing, Supervisor: H.S. Hassanein
Syed Akib Anwar Hridoy, Computing, Supervisor: M. Zulkernine
Susan Hwang, Computing, Supervisor: T.C.N. Graham
Madiha Kazmi, Computing
Jason Tzu-Kei Lam, Computing, Supervisor: F. Zulkernine
Lukasz Andrzej Lapczyk, Computing, Supervisor: D.B. Skillicorn
Dhanush Reddy Nandyala, Computing
Brandon Reid, Computing, Supervisor: T.C.N. Graham
Emerson Yuan-Tang Wang, Computing, Supervisor: R.E. Ellis
Bachelor of Computing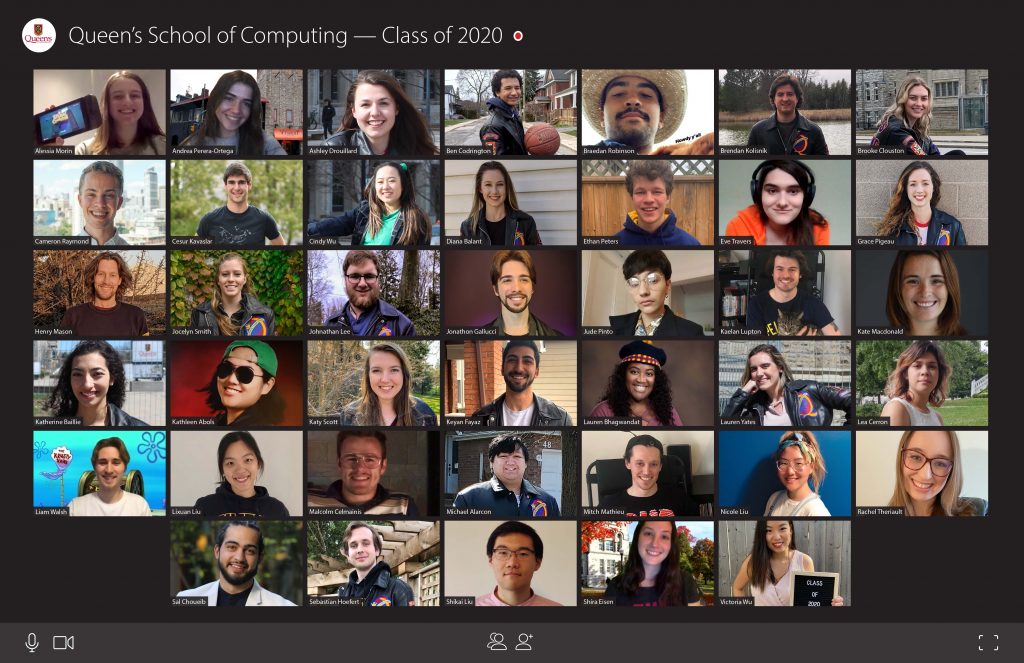 Kathleen Abols, Software Design
Tayyab Ahmad, Software Design
Michael Alarcon, Software Design
Benjamin Alderson, Software Design
Matthew Allion, Computing General
Rawan Alsaadi, Computer Science
John Anthony, Software Design
Victoria Armstrong, Cognitive Computing
Shezil Asaf, Computing General
Katherine Baillie, Biomedical Computing
Katherine Baker, Computing General
Diana Balant, Software Design
Colton Barr, Biomedical Computing
Jose Bermudez, Computing Major
Marc-Etienne Bernier, Computing General
Lauren Bhagwandat, Computing, Mathematics, and Analytics
Rajdeep Brar, Software Design
Dylan Brookes, Computing General
Michael Bryenton, Software Design
Joshua Burak, Computer Science
Noah Cabral, Computing, Mathematics, and Analytics
Sarah Carter-Anderson, Computing General
Malcolm Celmainis, Computing Major
Lea Cerron, Software Design
Sammy Chan, Software Design
Congwei Chen, Computer Science
Ke Chen, Computer Science
Chin Chen, Biomedical Computing
Tong Chen, Computer Science
Jiaao Chen, Biomedical Computing
Yuxin Cheng, Computer Science
Ik-Hyun Cho, Software Design
Saleh Choueib, Biomedical Computing
Brooke Clouston, Computing, Mathematics, and Analytics
Benjamin Codrington, Software Design
Jesse Collier, Computer Science
Timothy Crowley, Software Design
Stefan Decimelli, Computer Science
Michael Della Penna, Software Design
Matthew Dixon, Computing, Mathematics, and Analytics
Ashley Drouillard, Software Design
Eric Du, Software Design
Shira Eisen, Biomedical Computing
Brittaney Everitt, Biomedical Computing
Keyan Fayaz, Computer Science
Yiwen Feng, Computer Science
Colleen Fleury, Biomedical Computing
Jonathon Gallucci, Computer Science
Justin Gerhardt, Software Design
Christopher Gray, Software Design
Andrew Grebenisan, Computer Science
Manvir Grewal, Computer Science
Jack Guinane, Computer Science
Stephanie Harber, Software Design
Avry Harris, Software Design
Jacqueline Heaton, Biomedical Computing
Ross Hill, Software Design
Clark Hodgins, Software Design
Sebastian Hoefert, Software Design
Hanwen Hu, Software Design
Zhuo Huan, Software Design
Ian Hume, Software Design
Elliot Hume, Software Design
Jonah Isen, Biomedical Computing
Zhizi Jiang, Software Design
Yingjie Jin, Software Design
Ryan Kartavicius, Computer Science
Cesur Kavaslar, Software Design
Maxwell Keleher, Computer Science
Ryan Kirshenbaum, Computer Science
Brendan Kolisnik, Computing, Mathematics, and Analytics
Andrew Lazenka, Software Design
Sangjun Lee, Computer Science
Benjamin Lee, Computing, Mathematics, and Analytics
Johnathan Lee, Software Design
Alastair Lewis, Software Design
Yishan Li, Computer Science
Zane Little, Cognitive Computing
Shikai Liu, Computing, Mathematics, and Analytics
Xinya Liu, Software Design
Mengfan Liu, Software Design
Lixuan Liu, Computing, Mathematics, and Analytics
Chung-Ti Liu, Software Design
Nicole Liu, Computing, Mathematics, and Analytics
Mo Liu, Computing, Mathematics, and Analytics
Xiaotian Liu, Computing, Mathematics, and Analytics
Zachary Livingston, Software Design
Yuanhao Lou, Computing, Mathematics, and Analytics
Diyang Lu, Computing General
Kaelan Lupton, Computing Major
Tianbo Ma, Computer Science
Katherine Macdonald, Computing General
Tyler Mainguy, Computing, Mathematics, and Analytics
Henry Mason, Computing Major
Mitchell Mathieu, Computing Major
Noam mcgregor, Computer Science
Christopher Molloy, Computing, Mathematics, and Analytics
Alessia Morin, Biomedical Computing
Valentino Muiruri, Computing Major
Matthew Nicastro, Computing, Mathematics, and Analytics
Stephanie Noel, Computing General
Noah Peneycad, Software Design
Zheng Peng, Software Design
Andrea Perera-Ortega, Computing Major
Ethan Peters, Computing, Mathematics, and Analytics
Quentin Petraroia, Computer Science
Stephanie Pigeau, Biomedical Computing
Aidan Polese, Software Design
Matthew Pollock, Computer Science
Cameron Raymond, Computing Major
Scott Reed, Computer Science
Michael Reinhart, Software Design
Braedan Robinson, Software Design
Matthew Rodgers, Computer Science
Stefano Roque, Biomedical Computing
Katy Scott, Biomedical Computing
Tyler Searl, Software Design
Zhan Shi, Software Design
Kyusung Shim, Computer Science
Daylan Sit, Computing General
Zachary Slater, Software Design
Jocelyn Smith, Computing, Mathematics, and Analytics
Miranda Smith, Computing, Mathematics, and Analytics
Dragos Stefanov, Computer Science
Ella Stewart, Biomedical Computing
Duncan Stuart, Computing Major
Lixian Su, Computer Science
Brandon Tang, Software Design
Rachel Theriault, Biomedical Computing
Eve Travers, Software Design
Liam Walsh, Software Design
Connor Way, Software Design
Dean Wilkins-Reeves, Computer Science
Nicolas Wlodek, Cognitive Computing
Christopher Won, Software Design
Martin Woo, Cognitive Computing
Michael Wrana, Computing, Mathematics, and Analytics
Victoria Wu, Cognitive Computing
Cynthia Wu, Software Design
Fang Xie, Software Design
Hong Yi Xiong, Computing, Mathematics, and Analytics
Xue Yang, Computer Science
Lauren Yates, Biomedical Computing
Yifei Yin, Computing Major
Horace Yip, Software Design
Qianyu Zhang, Computing, Mathematics, and Analytics
Hanzhe Zhang, Software Design
Leonard Zhao, Biomedical Computing
Chuyan Zheng, Computer Science
Churan Zuo, Computing Major