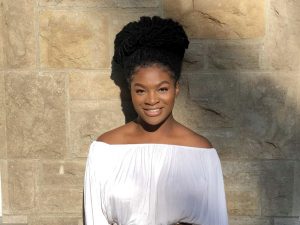 Undergraduate student Nicole Osayande is well known in the University for her academic excellence, leadership, EDI advocacy, and enthusiasm for the School of Computing. She has recently been named an inaugural scholar McCall MacBain Scholar among 20 students. Such an achievement has garnered recognition at the Queen's Gazette as well as The Globe and Mail.  Nicole will be using this scholarship toward her upcoming master's degree in biological and biomedical engineering at McGill University.  Nicole comments on what it has meant to win this award. She says:
"Winning this award means that I get to pursue my leadership passion projects on a graduate level, with the resources and network to impact even more people. Branching from my club Queen's Student Diversity Project, during my time at McGill, I intend to focus on setting structures in place to provide marginalized student populations with the resources they need to dwell in predominantly white institutions. I can't wait!"
Although she is excited for the next steps, she acknowledges how her time at Queen's has brought her to this point.
"What drew me to Queen's was its one-of-a-kind program –Biomedical Computing; and through this specialization program, I have been able to delve into my creative and innovative side in a way I never knew possible."
We're so proud of your accomplishments Nicole and we're excited to see what you do next! Congratulations!