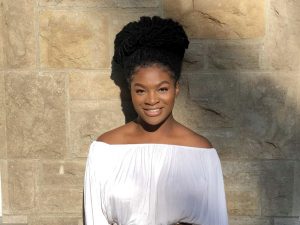 The Queen's School of Computing is proud to announce that undergraduate student Nicole Osaynde has received an Agnes Benedickson Tricolour Award.
When asked what it means to have won this award, Nicole states:
"For the first time ever 4 Black women are recipients of this years award, and I am honoured to be a part of this history making. I think it truly reflects the hard work of namely Black students from the Class of 2021, who have worked tirelessly to make queens a more inclusive space. It feels great to be seen and heard."
The department is truly proud of her for her academic excellence and her committment to  EDII!
Congratulations  Nicole!