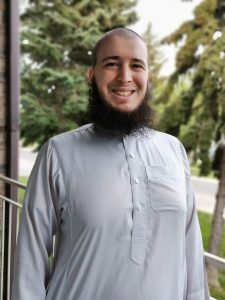 Dr. Karim Lounis is a recent School of Computing graduate who has been awarded the Governor General's Academic Gold Medal. This Gold Medal is a highly prestigious and competitive prize that is awarded each year to a student graduating with the highest average from a doctorate degree to recognize student's outstanding scholastic achievements. Here is what Karim had to say after winning the award.
How do you describe your team?
I have smoothly conducted my Ph.D. thesis under the supervision of Prof. Mohammad Zulkernine, the head of the Queen's Reliable Software Technology Lab (QRST). To that end, Prof. Zulkernine has offered to me a working environment that every graduate student dreams of. Indeed, to successfully complete a degree, in particular long-term degrees, such as a Ph.D., a student needs an experienced person to provide guidance, advice, corrections, support, and encouragement. As far as I am concerned, Prof. Zulkernine was for me the experienced person that I needed for my Ph.D. Within his lab, he made me comfortable with much positive energy, pressure, and friendly discussions. With such an exciting working environment, I was able to complete my Ph.D. within three years while producing twelve research articles and teaching the undergraduate course of Operating Systems (Winter 2019, 2020, and 2021). Also, handling too many academic duties while being responsible for a family of three kids, in particular, during the pandemic, was a challenge that was made easy by the will of God and then the support of Prof. Zulkernine. I have enjoyed working with Prof. Zulkernine and I am proud of being a member of his lab.
Can you provide a brief description of your thesis?
During my Ph.D. thesis, I have analyzed the security of the most used wireless short-range communication technologies, namely, Wi-Fi, Bluetooth, ZigBee, and RFID, in the context of the Internet of Things (IoT). I have discovered some security vulnerabilities, demonstrated various cyberattacks, and provided solutions to make systems that use these wireless technologies more secure. Also, I have proposed security mechanisms for resource-constrained devices to perform secure and low-cost authentication using PUFs (Physical Unclonable Functions).
How would you describe your experience at Queen's University?
Since I started my Ph.D. in January 2018, I have received so much great support, including administrative, academic, and technical support. I am so thankful to our Graduate Program Assistant, Debby Robertson, and School Manager, Tom Bradshaw. They were always there to answer questions and provide me with guidelines. I would also thank all the technical team, Richard, Aaron, Ben, and Doug, for all the technical support. Finally, I am grateful to all faculty staff at the School of Computing, who have invited me to their offices without prior appointments, to discuss various interesting topics and provide useful advice.
What does it mean to you to have received this award?
I am honored to be recognized for all the hard work and skills that I have developed over the past few years throughout my Ph.D. and graduate studies. It is a great honor to receive this award.
As far as I am concerned, being awarded such a prestigious prize is like being refueled with very high-quality fuel. This has already motivated me to continue doing research in my field of interest and contributing to academia to improve the system further for our next generation. As it is a boost of motivation and encouragements for me, I also believe that it is a motivation for current students in our lab, at the school, as well as at the university. Finally, I am so glad and I am so confident that this award constitutes an extraordinary achievement for my parents and would develop a boost of motivation for my children as well to make similar achievements.
How does receiving this award fuel your further pursuits in the field of computing?
I believe that for each project that you plan to start, a boost of motivation and encouragement is indeed required. It is like the quality of the fuel that you need to move forward in your project. I felt that throughout my academic career that each time I obtain an award or a recognition for my perseverance and hard work, it boosts me further to continue with higher energy. After hearing the news, I got motivated to continue doing research in my field of interest and contribute to academia to improve the system further for the next generation.
What are your next steps?
Right after defending my Ph.D., I have got the privilege to continue working with Prof. Mohammad Zulkernine as a postdoctoral fellow in a new emerging project with the department of defense. The project aligned well with my research interest and was a great experience to open new research questions. After the project, I am planning to go back to my country, Algeria, and contribute to research and academia in my field of interest, at a university or a research centre.
Congratulations Dr. Lounis! We are proud of your achievements and wish you great success in your future.