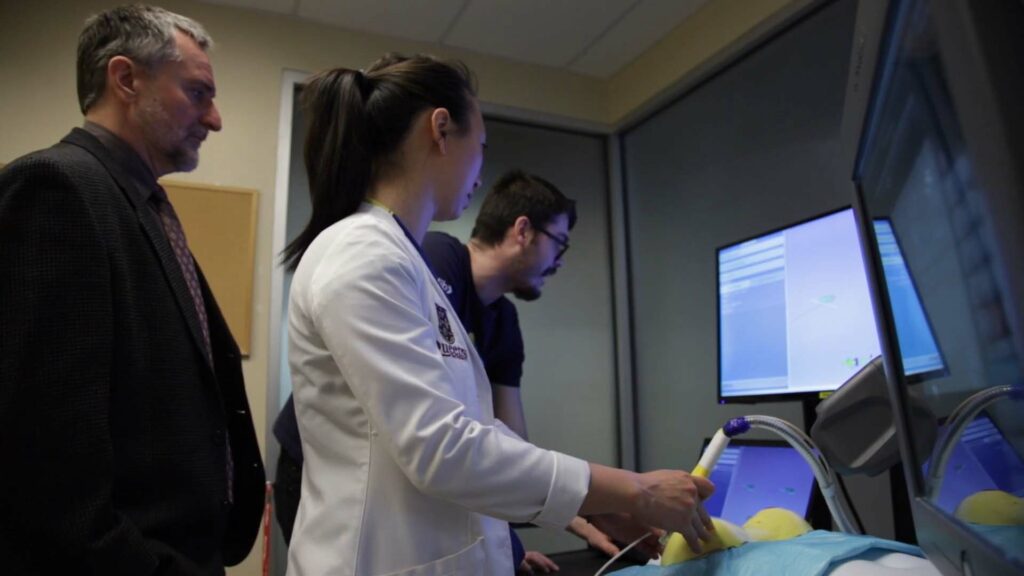 Faculty of Arts and Science researcher Gabor Fichtinger, Canada Research Chair in Computer-Integrated Surgery, has been elected to the College of Fellows of the American Institute for Medical and Biological Engineering (AIMBE). The College of Fellows is comprised of the top two percent of medical and biological engineers in the country.
Dr. Fichtinger was nominated, reviewed, and elected by peers and members of the AIMBE College of Fellows for contributions to development, clinical translation, and global dissemination of novel methods and technologies for computational image guidance in medical interventions.
Dr. Fichtinger is a professor within the School of Computing where he directs the Percutaneous Surgery Laboratory (Perk Lab). His research and teaching specialize in computational imaging and robotic guidance for surgery and medical interventions, focusing on the diagnosis and therapy of cancer and musculoskeletal conditions.
"Working with someone of Dr. Fichtinger's caliber has been a truly inspirational experience," says Post-Doctoral Fellow Jessica Rodgers. "His innovative approach to real-world problem-solving and commitment to improving health at a global scale is tremendous. His extraordinary leadership in the lab also shines through in his deep caring for each lab member, making them feel included and supported in all their endeavors.
Along with being named a Tier 1 Canada Research Chair, Dr. Fichtinger has received many other honours, including Cancer Care Ontario Research Chair, Institute of Electrical and Electronics Engineers Fellow (IEEE), Medical Image Computing and Computer-Assisted Intervention Society Fellow, and Marie Curie Fellow of the European Community.
"I've had the privilege of being one of Dr. Fichtinger's students now for almost four years," says Ph.D. student and Research Assistant Laura Connelly. "His passion for what he does has culminated in a supportive and thriving research group in the Perk Lab that has shaped the person I am today. Dr. Fichtinger has pushed me to reach my full potential while opening every door I could've ever imagined and always standing in my corner. He is an incredible teacher, mentor, and person, and highly deserving of this fellowship."
To learn more about AIMBE visit the website.
This article originally appeared in the Faculty of Arts and Science newsletter. Story by Anne Craig.