On June, 22nd, 2022 Goodwin Hall was filled with life once again as the Queen's School of Computing hosted its convocation reception for the classes of 2020, 2021, and 2022.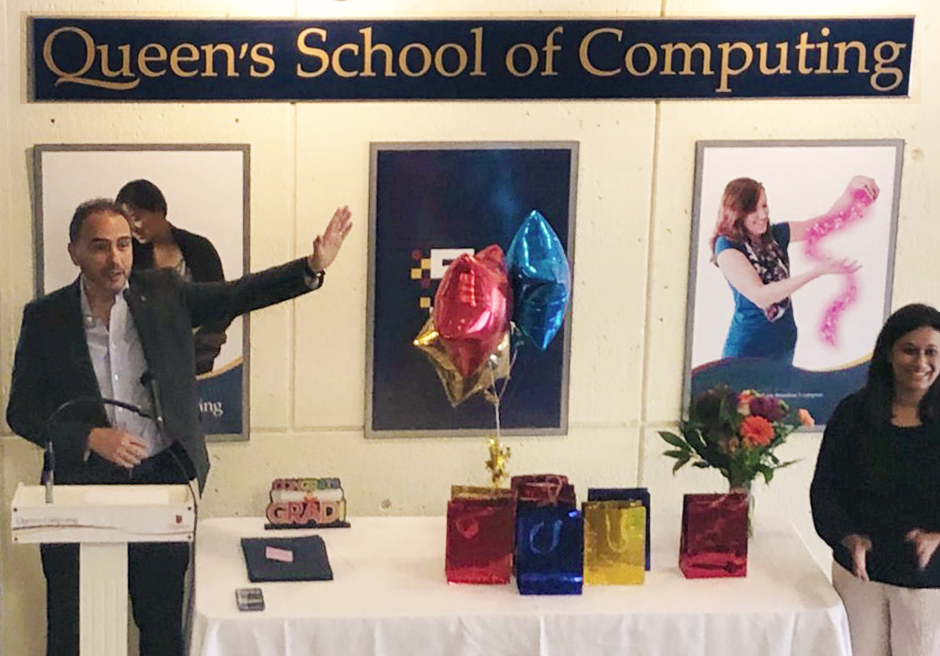 As per tradition, the event is held in the foyer of Goodwin Hall. Since this event was celebrating three years of graduates it was important to ensure there was sufficient space, decorations, and of course, cake! The newly renovated Commons was the perfect venue.
It wouldn't be a convocation reception at the Queen's School of Computing without an awards ceremony. Congratulations to all the 2022 School of Computing Award winners:
The School of Computing Research Award: Tamas Ungi
Distinguished Service Award: Laurie Truman
PhD Research Achievement Award: Lama Moukahal
Ian A. Macleod Award: Maram Assi
Excellence in Teaching Assistance Award: Hebatalla Ouda
MSc distinguished thesis award: Alice Santilli
Distinguished Student Award: Sanindie Silva
Howard Stavely Teaching Award: Robin Dawes
Although this event was in person, guests and their family and friends were also invited to attend virtually while the awards ceremony livestreamed on Microsoft Teams and Facebook Live. The virtual stream provided loved ones who were unable to join in person with the opportunity to celebrate their accomplishments together. The ceremony is available to watch on our YouTube channel for those who were unable to attend.
Two long years of social distancing made this gathering all the sweeter! The faculty and staff have watched graduands preserve through challenging times and it was an absolute joy to share this celebration with the graduands and their families. The convocation reception is a tradition that will continue to evolve at the Queen's School of Computing for many years to come. Here are a few statements from the members of the department who were present at this event.
"It was an amazing event probably one of the best ones ever – especially having been in the new Commons room." – Karen Knight, Undergraduate Program Assistant
"This was our first time hosting a hybrid event of any kind. The tech team worked together to brainstorm and execute a plan to connect the in-person event with a meeting on Microsoft Teams in a short amount of time, debugging it on the fly. Feedback was positive with friends and family from across the world able to watch and connect with the graduates at the event. We look forward to iterating and improving on the set up for future events." – Doug Martin, Systems Specialist
"Celebrating all our graduating classes together was inspirational for the entire staff team. It helps bring meaning to our day-to-day work when we can take the opportunity to cheer for all our hard-working graduands. You did it! We are so proud of you all!" – Robin Tippett, School Manager
Congratulations to the classes of 2020, 2021, and 2022! We're so proud of your accomplishments and wish you all the very best in your bright futures ahead!