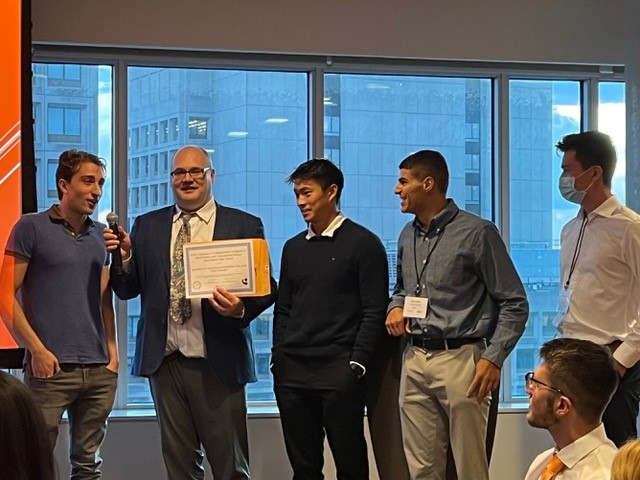 David Huang, a 4th year Biomedical Computing student, was part of the Queen's team to win the "Best Student Paper" award at the IEEE CIBCB 2022 conference in Ottawa this August. The winning paper, titled geneDRAGNN: Gene Disease Prioritization using Graph Neural Networks, can be found in the IEEE Xplore journal. The project aims to contribute to the world of human genetics research by using machine learning to discover potential genes related to specific diseases. The study focuses on using graph neural networks to detect gene-disease associations with lung adenocarcinoma.
David was representing Queen's School of Computing at the conference alongside his teammates from all over Queen's: Awni Altabaa (Mathematics), Hani Khatib (Commerce), Ciaran Byles-Ho (Engineering Physics), and Fabian Sosa (Electrical Engineering), all under the supervision of QSC's Professor Ting Hu.
The group got together through their involvement with the Queen's University Artificial Intelligence, Machine Learning, and Disruptive Technologies group, or QMIND.
QMIND is Canada's largest student-run organization with over 200 members. The students in QMIND  design teams solve real-world problems through the use of artificial intelligence, machine learning, and various other disruptive technologies. David Huang has been part of QMIND since 2019, first as Design Team Member, and later as Project Manager, and then a Director of Design.
"QMIND was where I first dipped my toes into the field of artificial intelligence and research, and it was how my teammates and I connected," David says.
Their QMIND undergraduate research team first presented geneDRAGNN in the UofT AI Project X competition, where the team won first place. As the team's cheerleader and mentor, Dr. Hu encouraged the group to take the paper further and to present at the IEEE conference. David says that presenting at the IEEE CIBCB 2022 was nerve wracking, but rewarding:
"We have presented at student-run conferences through QMIND before, but these conferences were online because of the pandemic. The IEEE conference was our first experience presenting in person, and at a prestigious international conference with actual researchers presenting. We were nervous and stayed up the night before rehearsing our presentation, preparing answers to any potential questions the panel might ask us. In the end, it turned out great. This was many of our teams' first ever published research paper and I am thrilled that our team has received the Best Student Paper award for it."
When asked about what helped David and his team accomplish this milestone, David credited most of their success to Professor Hu's mentorship.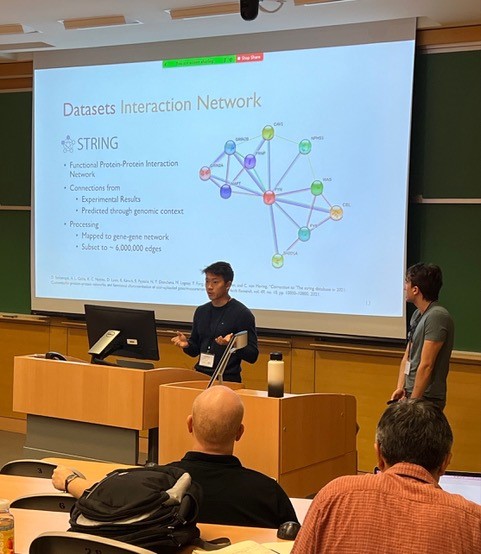 "Dr. Hu helped guide our team in the right direction and encouraged us to reflect on why we made the decisions we did. Dr Hu even involved one of her PhD students, Ryan Zhou, to support us and provide his perspective on our research and help us problem-solve. Dr. Hu pushed us towards pursuing publication and encouraged us to continue taking the project further after we won at the UofT AI competition. I am grateful to Dr. Hu for showing such confidence in our abilities and in what we had to offer as a team."
In addition to his work with QMIND, David has spent the past year and a half doing an internship with the Centre for Advanced Computing at Queen's University, a unit that supports researchers at Queens through hardware and software solutions. David says that seeing research translated into actual products has made him appreciate the power of institutions, like the Centre for Advanced Computing, in enabling end-to-end research.
"I worked directly with researchers from KHSC to develop a dashboard that tracked COVID-19 cases across Eastern Ontario. This dashboard helped inform the response to the COVID-19 pandemic and guide public health policy. I am amazed at the multidisciplinary effort that is required to develop solutions in the healthcare space."