The School of Computing announces the renewal of a collaborative partnership with Canadian University Dubai, where cohorts of talented undergraduate students from the United Arab Emirates will articulate into programs in the School of Computing. The students will get the benefit of a global educational experience and will graduate with the knowledge and qualifications that will enable them to apply this education to a range of industrial and international contexts.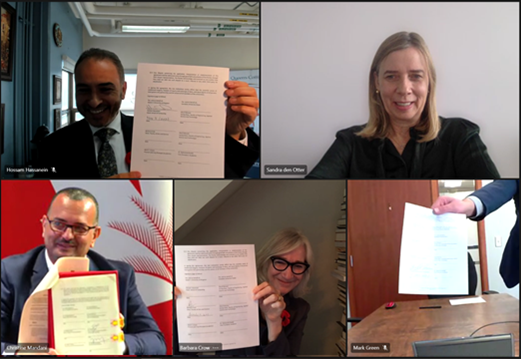 Mark Green, the Provost for Queen's University, had this to say about the event:
"…I am excited by the possibilities that this renewed cooperation with our longstanding partner, Canadian University Dubai, presents to all of us involved. As Queen's reaffirms its commitments to equitable global engagement through our responsibility to sustainable development, civic impact and fostering mutually beneficial partnerships across the globe, the renewal of our agreement with a modified focus and a slightly broader subject range, epitomizes those values."
Sandra den Otter, the Vice-Provost, said:
"It is my pleasure to be with you all today – albeit virtually – to celebrate the renewal of our agreement. That we have been able to work together to modify and enhance this agreement so that more students will be able to benefit from the opportunity to participate in this 2+2 agreement and participate in an education that straddles two continents is a testament to the strength of the partnership that we share, and I am delighted that we can be here to recognize those contributions by our colleagues at both institutions today."
Upper-year students in the Computer Science, Software Design and Cybersecurity programs at CUD will have the chance to progress to the School of Computing here at Queen's, ultimately obtaining a degree here in Canada. We're excited to welcome these students to Canada and have them join us!