There are few subjects that can be presented in three minutes and a thesis is by no means an exception. When you ask a graduate student about the subject of their thesis, you may have to brace yourself for a long-winded explanation. That's why the art of brevity is highly valued at the Three Minute Thesis Competition.
The Queen's School of Computing is proud to celebrate the accomplishments of our MSc student Amtul Haq Ayesha on winning the Queen's University's 2022 Three-Minute Thesis Competition. In this competition, Amtul presented her research on Veytals, an app which is designed to detect vital signs such as heart rate and blood pressure through the use of a camera. AI techniques and machine learning algorithms are integrated to calculate heart rate and blood pressure. While this application does not replace medical devices, it does allow greater accessibility for anyone to monitor their own health.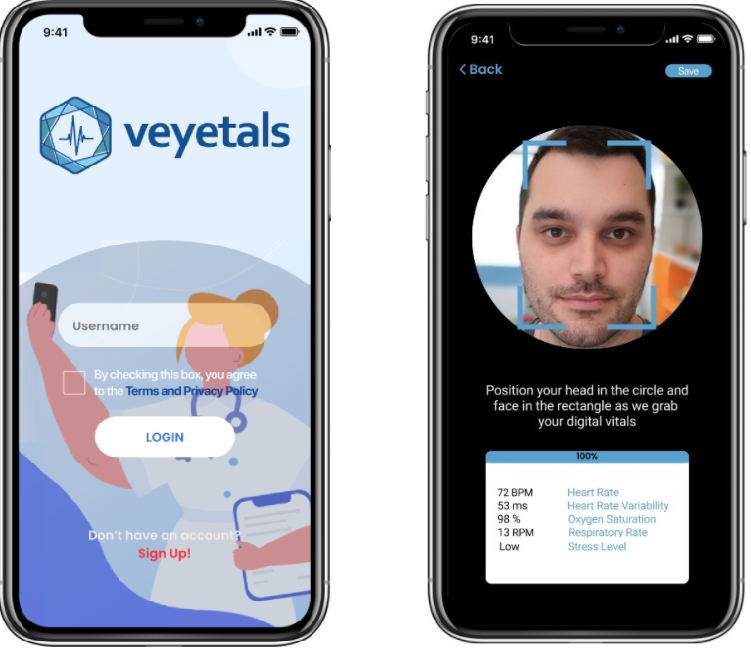 Since this year's event was held in a hybrid fashion, contestants were given the option to present virtually. Amtul was unsure how her virtual presentation would compare to the other contestants, but she hoped for the best. When she heard her name announced as the winner, she was pleasantly surprised. Event organizer, Colette Steer shares some of her insights on the hybrid style event. She says:
"In the past we have only held the 3MT in person but the pandemic changed all that, forcing us to flip quickly to online in 2020 and 2021. This year however we were hopeful that we could go back to in person, but not all participants were able to be on campus, so a hybrid event it was. Truth be told I wasn't sure how well it would work, but with the help of some technology and patience from participants and judges alike, it actually worked really well. The hardest part was being able to hand over the giant cheque to Amtul as she was online!"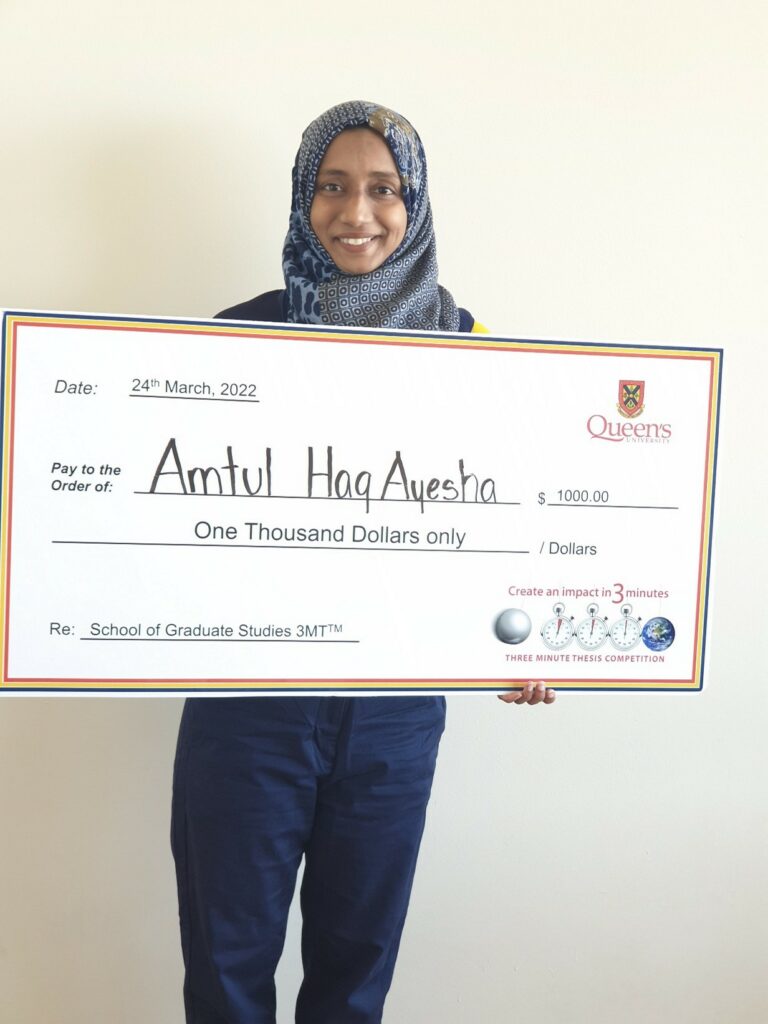 Amtul brings an infectious energy and enthusiasm when it comes to participating in competitions. She says:
"If there is a competition coming up, I just have this drive to participate in everything. I just feel that you have nothing to lose."
The next steps for Amtul are very exciting. In addition to making her way to the 2022 Ontario Regional competition at the University of Guelph, Amtul's research is posed to be piloted in major healthcare settings. Amtul's thesis supervisor, Dr. Farhana Zulkernine, shares
"I am very proud of Amtul's work. She has collaborated with the industry partner and extended the work of my other student, Donghao Qiao, in improving the face video based vital signs measurement tool which has been marketed by the company as Veyetals. We are going to use Amtul's work and improve its accuracy while validating it with more patient data having a wider range of values for the vital signs. Amtul has implemented a web application that will facilitate the data collection and validation in the future studies. We have also obtained a new grant with our industry partner and Providence Manor to test the technology at the long-term care facilities."
Many congratulations Amtul and keep up the excellent work!