Computer Science Canada / Informatique Canada (CS-Can/Info-Can), a national professional organization for computer scientists recently honoured Wendy Powley with the Distinguished Services Award. This award recognizes outstanding service to CS-Can|Info-Can and the Canadian computer science community at large. Wendy received the award in recognition of her continued dedication to promoting gender diversity in Computing.
Professor Powley says she is truly honoured to receive this recognition. The announcement was made shortly after the 2022 Canadian Celebration of Women in Computing (CAN-CWiC) conference, an incredible event that Wendy Powley has been championing since its inception. Wendy Powley and the Queen's Women in Computing Group (QWIC) founded and have been running the CAN-CWiC for the past 12 years. In 2023, it will fall under the umbrella of CS-Can/Info-Can.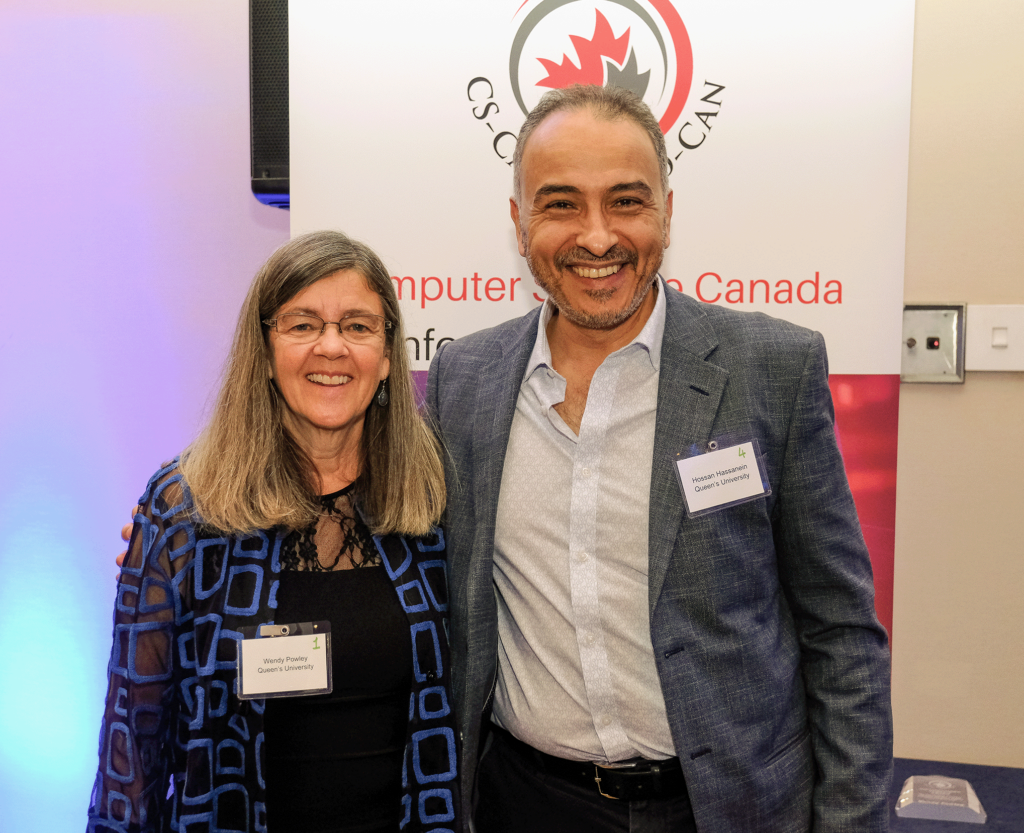 More than 650 women in STEM came together at CAN-CWiC 2022 to share stories, experiences, and advice for the next generation of women in computer science. When Wendy took the stage during the opening night banquet, you could witness the real impact of her work with CAN-CWiC, just by looking at the audience. A sea of young faces, mostly high school students, listening intently with excitement to the list of weekend's events, for the first time in their lives surrounded by exclusively by like-minded peers. One of the guests said, "Attending CAN-CWIC, I realized I have never been a room with more than ten women in Computing, let alone 600+. It was a refreshing experience of mix and mingle with many other CS women from universities from all over Canada." Wendy introduced Morgan Klein-MacNeil, VP, Finance Technology at TD, the Keynote Speaker for the opening night, who took the stage to speak humbly and candidly about how impostor syndrome had been holding her back as a woman in tech, and to encourage the young women in the room to not undervalue their capabilities and take on new ambitious roles with an open mind and a desire to learn.
This message resonated throughout the many subsequent events of the weekend. The following morning, Melissa Gilliam, Senior Software Engineer at EA, addressed the room with the same candid, open, honest energy, sharing her struggles along her career as she pushed herself to learn to speak in front of large audience, despite being an introvert, and learned to be a strong manager and leader, while acknowledging and owning mistakes along the way. Jessica Burns & Victoria Gray from the RCMP Cybercrime Investigative Team gave a presentation about real-world cybercriminal investigations they have been involved in uncovering. These are just a couple of examples from the weekend that was packed with speakers, panelists, and special guests, but the underlying message to the attendees was present in them all: there is an incredible world of careers out there, that you might not even know about yet, so don't hold yourself back and keep an open mind.
"Women are greatly underrepresented in the tech industry, holding only about 25 per cent of the technical jobs," says Wendy Powley. "To me, this is unfortunate in an industry that offers lucrative careers in virtually every domain that you can imagine," she says. "The tech industry is shaping the world in which we live, and it is important that we have everyone at the table to determine how this technology is built and used."
Many of the speakers acknowledged the Women in technology fields can feel lonely and isolated, struggle with impostor syndrome and feel like their anxieties and challenges are unique. Taking part in CAN-CWiC is striking proof otherwise. Attending the event, you witness hundreds of capable, talented Canadian young women in tech who share in the same journey.
"Who knew that Canada had this many women in computing!" reads a LinkdIn post from Shaza I. Kaoud Abdelaziz, a PhD candidate at QSC.
"I am so grateful that I was able to take part in CAN-CWiC, together with amazing women from the University of Montreal," says Jeanne Audrey Mboua, undergraduate conference attendee from Quebec. "It felt great to be around successful women, especially those who had similar experiences and feelings. We deeply discussed the imposter's syndrome and performance anxiety which resonated a lot with me. I had a great feeling of satisfaction around these women and I gained so much self-confidence and hope for my future."
In a recent interview with Queen's, Wendy Powley was asked to describe what makes CAN-CWiC unique. "This conference offers women a chance to gather, unite, inspire and be inspired," she says. "Attendees are treated to a variety of speakers, panels, and workshops ranging from professional development tips such as branding, resume writing, interview skills to technical sessions and research presentations. Our career fair features representatives from our many sponsors who are recruiting for full time employment or internships. For those from computing departments with few women (in some cases less than 10 per cent), it is refreshing and reaffirming to see so many women with similar interests. This conference has been my passion for many years, and I am excited to watch as it grows under new direction."