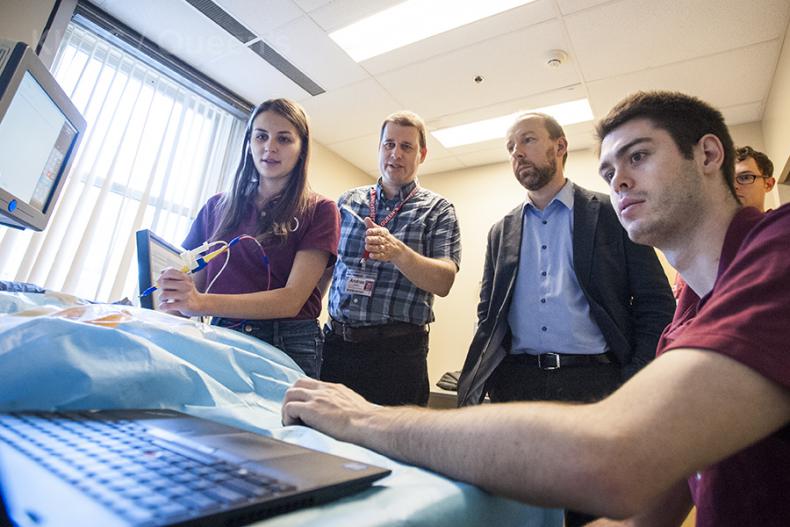 (Image by Matthew Manor)
From KGH Connect:
Every few years a new piece of technology is released that can dramatically change the way medical teams provide care to their patients. Now, Canadian surgeons and researchers have partnered with a team in the U.K. to develop a tool that will transform the way cancer is surgically removed in the future.

During surgery, medical teams balance the need to remove all of a tumour, while at the same time not removing too much healthy tissue. In the operating room this is often complicated by the fact that tumours do not have smooth edges.

"Often a patient will ask after surgery if we were able to remove all the cancer," says Dr. John Rudan, head of the Department of Surgery at Kingston Health Sciences Centre (KHSC) and Queen's University. "Sometimes it's hard to tell if all the cancer has been removed until the tissue is tested in a lab. This can mean that patients may have to undergo a second surgery if some of the tumour was missed. We hope our new tool will one day help solve this problem."

The tool, known as the NaviKnife, combines an "intelligent" surgical tool called the iKnife, developed at Imperial College in London, England, with real-time mapping capability developed at Queen's. The iKnife, which heats and cauterizes tissue as it cuts, uses mass spectrometry to analyze the smoke that is produced from each cut and can 'smell' if the tissue was cancerous.
Read the whole article: http://www.kgh.on.ca/kghconnect/news/kingston-teams-involved-creation-new-surgical-technology